About Regina Interlocking Paving Stone & Landscaping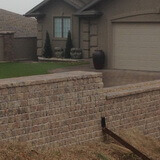 In 1987, Regina Interlocking Paving Stone & Landscaping began as a small business, growing into one of Regina's best known retaining wall and paving stone specialists. We've accomplished major commercial projects around Regina, including RCMP Depot, City Square Plaza, and Scarth Street. Our staff takes pride in completing excellent work for customers with upmost professionalism. In every project, our goal is to honestly serve our customers and provide them with in-depth information on the newest products in the industry. We employ well educated people who share our philosophy of honesty, safety, and high quality.
With Regina Interlocking Paving Stone & Landscaping, you're guaranteed the price you are quoted. No changes are made without your approval, and all of our work and materials are guaranteed for a year after installation. We follow rigid safety procedures and clean up all our materials at the end of each day to ensure your safety and comfort.
Our president Lyle Ulrich is involved with every project. He's the person who will provide you with your free estimate, and is on site from start to finish. Regina has somewhat difficult soil conditions, and Lyle has extensive knowledge of how to work with them to ensure the longevity of your project.