What We Do
Regina Interlocking Paving Stone & Landscaping works with both residential and commercial customers in Saskatchewan. We work throughout three seasons (March through October) to customize hardscaping projects to meet any property's goals.
Paving Stone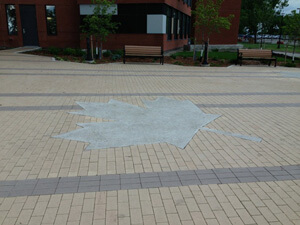 Our expert installers design paving stone areas of all types, including driveways, patios, and walkways. From creating a border around your home garden to elaborate commercial courtyards and anything in between, we ensure the results are unique. We combine a variety of colors and shapes to build patterns you can admire for several years. Our paving stone work looks great around a hot tub or pool. Driveways built with paving stones are durable and resistant to cracks and mold. We can also incorporate decorative concrete elements, plants, flowerbeds, and more. We are a trusted contractor for malls, corporate parks, and schools to create large areas of high quality paving stone.
Retaining Walls and Planters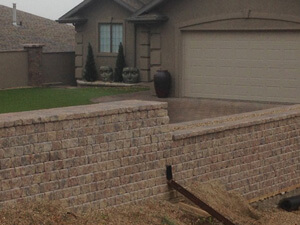 Regina Interlocking Paving Stone & Landscaping also builds retaining walls for any application, including apartments, single family homes, strip malls, and commercial buildings. Our planters can be designed to frame a small or large area of flowers, bushes, trees, and evergreen plants.
Outdoor Bars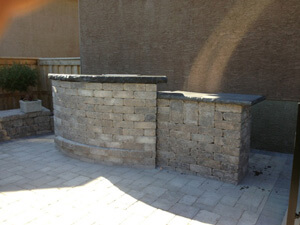 Outdoor bars are becoming more and more popular for entertaining guests and enjoying warm weather. We design and install outdoor bars, made from brick and stone, with several options for including refrigeration, sinks, and countertop areas.
Outdoor Fire Place Kits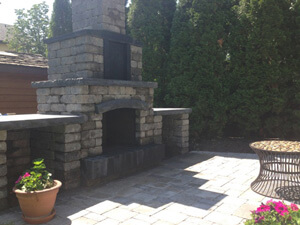 We also build outdoor fire places to beautifully complete your patio. In addition to the center area, there is top ventilation, a mantle extending from both sides, and storage for extra logs. These can be built directly onto a paving stone patio when it is created, or as a separate project.
Steps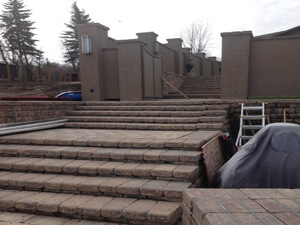 Regina Interlocking Paving Stone & Landscaping builds steps for porches, decks, gardens, commercial entryways, and more. A simple stone staircase can elegantly separate your patio from grassy areas of the yard.
Artificial Grass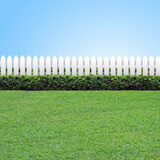 With our short summers, artificial grass will gain you hours of free time allowing you to enjoy life. It will accent your home, create a clean fun usable space for your family and friends.
Artificial grass also makes for a great play area for your pets. There's no need to worry about an odour due to pet remnants, as you just hose it down as you would on pavement.
With endless applications, whether its back or front yards, putting greens or even walls, synthetic turf will continuously look lush and green for years to come.
To get started on creating your perfect paving stone construction project, contact us for a free consultation.